Adapting to the new environment – Efficient operations for year to come.
Mom-and-pop supermarkets.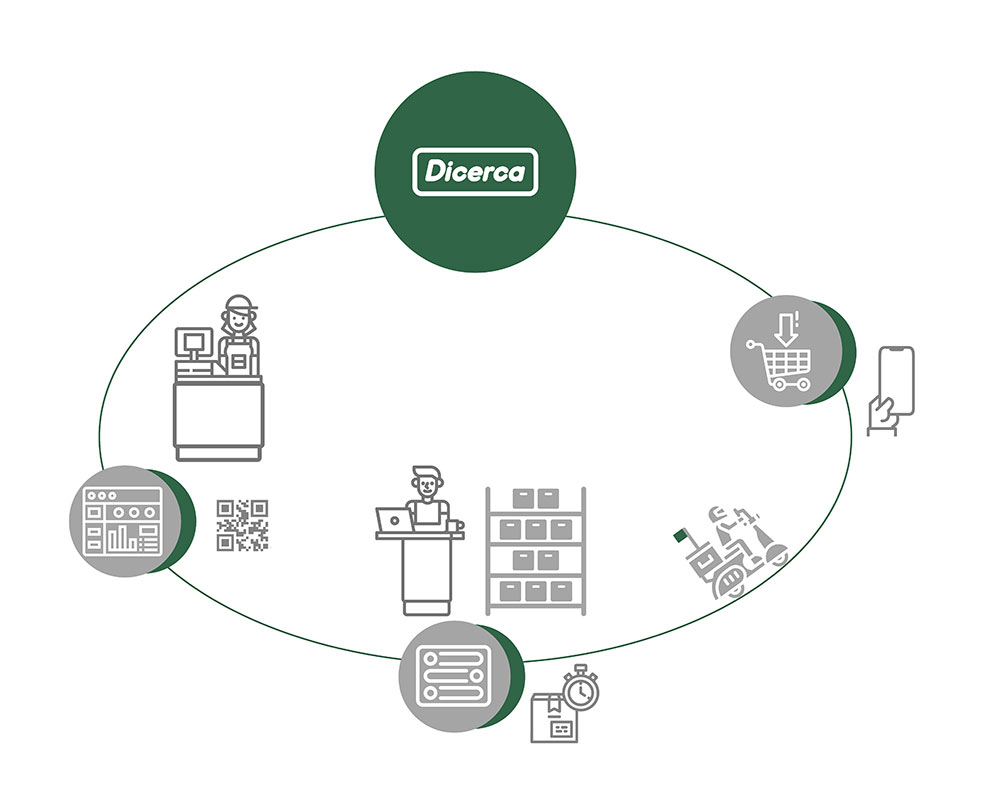 My role:
As a Lead Product Designer, I worked with a cross-functional and energetic team with expertises in UX research, engineering, and business. I contributed with research strategy, and product design. I was responsible for market research, user research, and user experience design.
COVID19 has had unprecedented effects in our lives and businesses. Suddenly, our ecosystems have gone from business as usual to fear of getting the virus with its negative effects. Every activity outside people's homes has become risky, defaulting into drastic changes in human behavior.

Supermarkets have also been impacted. Unlike big supermarkets, small ones lack of technology to continue engaging with customers, loosing market share and putting them in risk of going out of business. Meanwhile, big supermarkets have gained market share due to the digital tools that they already have in place.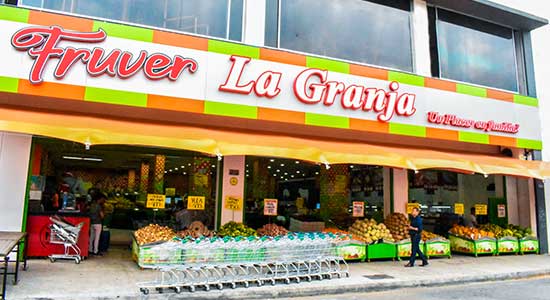 Stores are clean and full of light. Products are provocative, they smell good, look fresh. Customers can choose and pick their best product.
Stores are within walking distance, from 1 to 5 block away, making it very easy to get to.
80% of customers buy from 5 to 20 products on each visit. They average 15 minutes in store. Cashier line is always short and quick.
Store owners are always around. They know their clients and make sure customers get a good service.
Market analysis South America
According to McKinsey, it could get much worse. Monumental forces are disrupting the industry. If grocers don't act, they'll be letting $200 billion to $700 billion in revenues shift to discount, online, and nongrocery channels and putting at risk more than $1 trillion in earnings before interest and taxes (EBIT). When the dust clears, half of the traditional grocery retailers may not be around.
What has driven the grocery industry to this point? The disruption can be attributed to three major forces: consumers' changing habits and preferences, intensifying competition, and new technologies. Each of these forces is, to some extent, always at work, but the speed and magnitude of change have caught most grocers off guard.
Market share – Convencional self-service small supermarkets 
| | | | | | | |
| --- | --- | --- | --- | --- | --- | --- |
| Cities | Bogota | Cali | Medellin | Barranquilla | Santa Marta | Bucaramanga |
| Before COVID19 | 72% | 74% | 78% | 78% | 77% | 72% |
| During COVID19 | 38% | 42% | 58% | 60% | 62% | 53% |
Industry trends – opportunities
Rapid developments in online ordering and the increasing range of order fulfillment options, from express delivery to curbside pickup, bring great deal of pressure on retailers.
Both discounters and the food service industry are squeezing traditional full-assortment grocery retailers.
Big retailers are coming up with new experiments with smaller store formats in highly dense urban locations, offering convenience in ecosystems with high traffic congestion.
Consumers are increasingly looking for fresh and healthy eating, putting produce, fresh fish and meat, and other short shelf life products on the spotlight.
· Digitalization

· Online grocery shopping

· Food delivery apps

· Delivery choices

· Realtime transit information

· ML, AI

· Product suggestions

· Subscription-based products
Interview Notes – Store owners
"Since COVID-19 started, our store sales have dramatically reduced. Every day we used to have 150 to 250 customers. Now we don't even have half. Some customers now call and place the order over the phone, but that adds costs on our end."
"My store operates in a neighborhood of mostly elderly residents, some of them have been my clients for more than 40 years. All that changed with the pandemic. They don't feel safe anymore and they rather stay home than doing in-person grocery shopping."
"My wife and I have been running our store for more than 30 years and we knew the business like the palm of our hands. In 2020, every aspect of it changed. I don't know how to run the show anymore."
Unprepared for the new environment
Store owners don't have the tools to adapt quickly:
E-commerce platform
Demand forecasting
Inventory planning
Promotions and markdowns
No collaboration among stores
Store owners don't have communication between them
They don't have representation
No optimization system
These small supermarkets operate without optimization
Only 35% have a POS
Most transactions are cash-based
No optimization on delivery
Stores don't have a system that can be optimized, tracked and improved.
Interview Notes – Customers
" I used to love going to the store twice a week to buy fresh fruits and veggies. I like cooking and choosing my ingredients, but nowadays, with COVID, I can't leave the house and I have to ask my niece to do one big grocery shopping for me every 3 weeks. I don't get much fresh food anymore, mostly cans and frozen items."
" I have always liked supporting local businesses, especially when it comes to supermarkets, with the big chains getting all the profit. But now, with the chances of getting the virus, I started shopping online for my groceries. It is actually very convenient."
"A couple of months ago, with the shutdown and curfews, I decided to try online grocery shopping, after all I am a pretty tech grandma. It was a disaster. The page would not load easily, I could barely read the content, and setting up my payment information was so hard."
Interrupted product access
Due to COVID-19, users are experiencing lockdowns in the areas where they live
People are adopting new behaviors to avoid exposure to COVID-19
 Technology
Technology anxiety, resistance to change behavior
Inclusive
Elderly users fear of being left out
Small supermarkets
Most of them are mom-and-pop stores employing from 3 to 10 people
Most stores lack of technology
75% of store owners find technology intimidating
35% have internet installed on their stores
100% use smartphones
45% use a system to run their business
Non have an delivery system in place
Daily customers average 200 to 250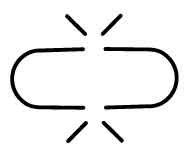 Customers  
Live within walking distance from the store
Very familiar with store products
Appreciate the convenience and fresh products
In average, 45% is older than 65
| | | | | |
| --- | --- | --- | --- | --- |
| Technology | Rappi | B – Supermarket | S – Supermarket | DICERCA |
| Number of SKUs | 300,000 | 150,000 | 3000 | 3000 |
| E-commerce platform | yes | yes | none | yes |
| Steeps before product | 5 | 3 | NA | 2 |
| Express delivery | yes | yes | none | yes |
| Flexible delivery | none | none | none | yes  |
| Curbside delivery | none | none | none | yes |
| AI/ML | yes | yes | none | yes |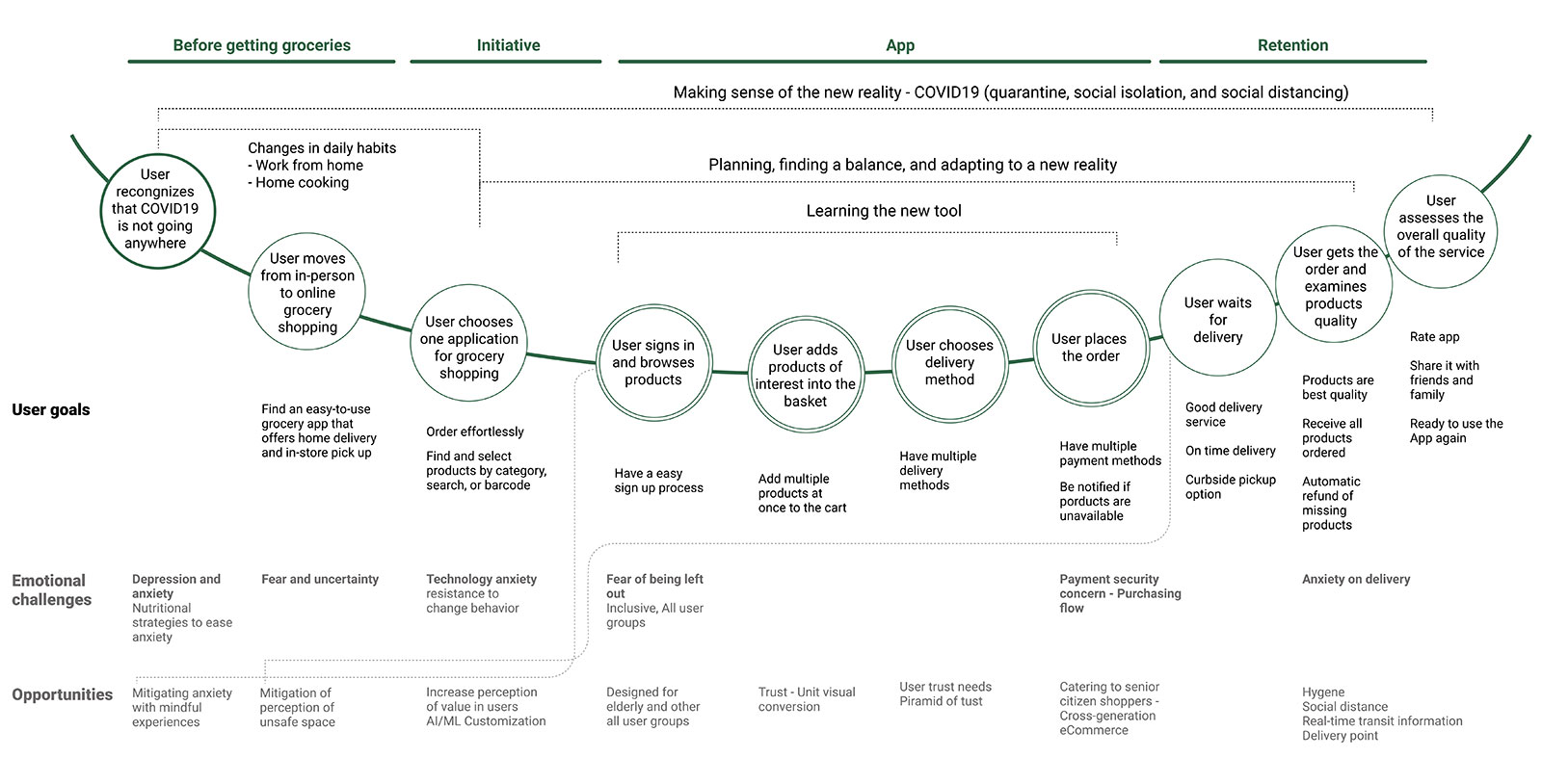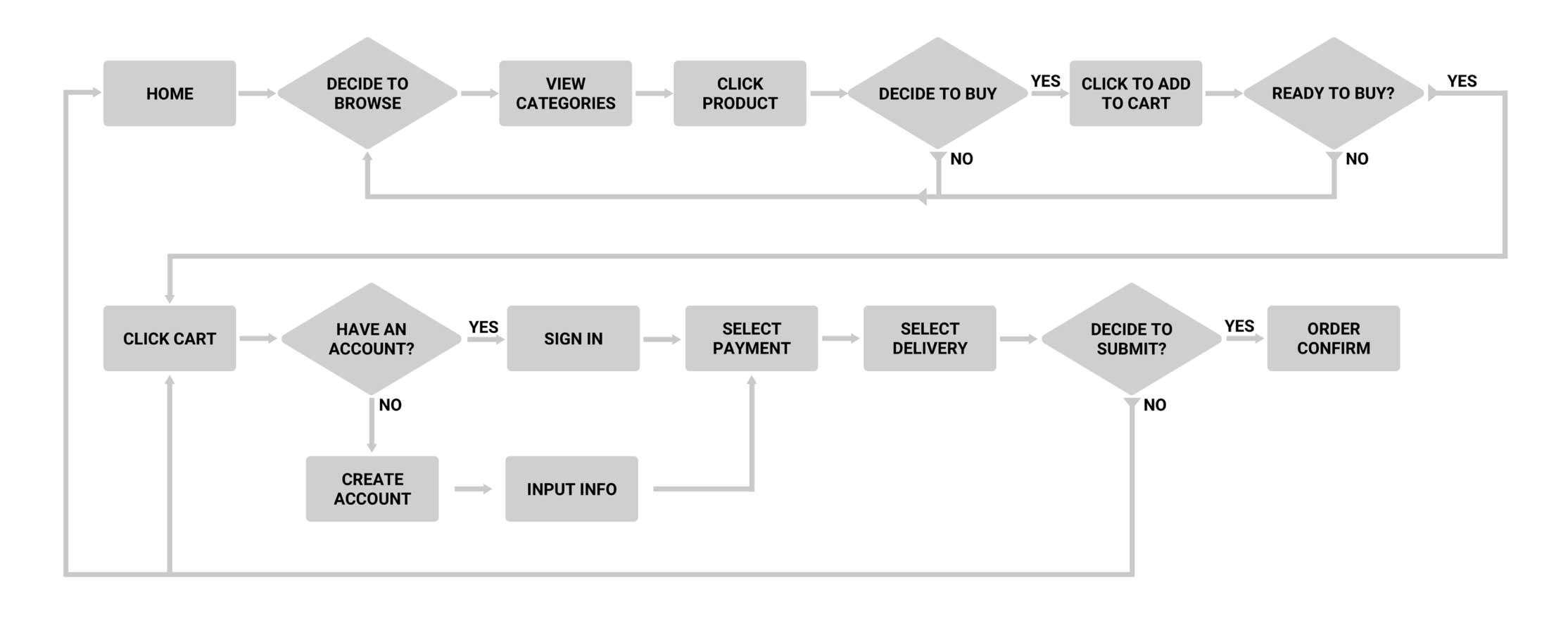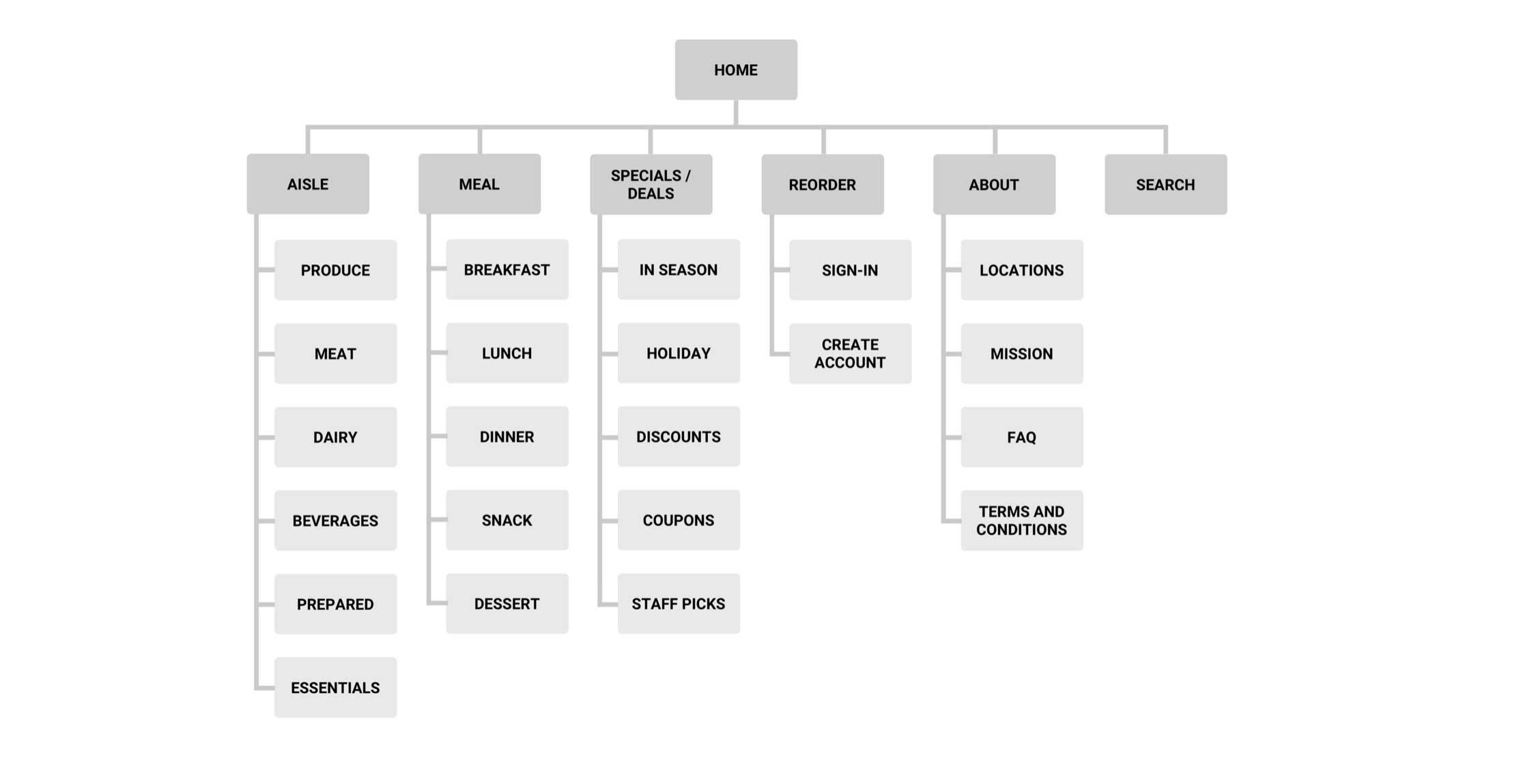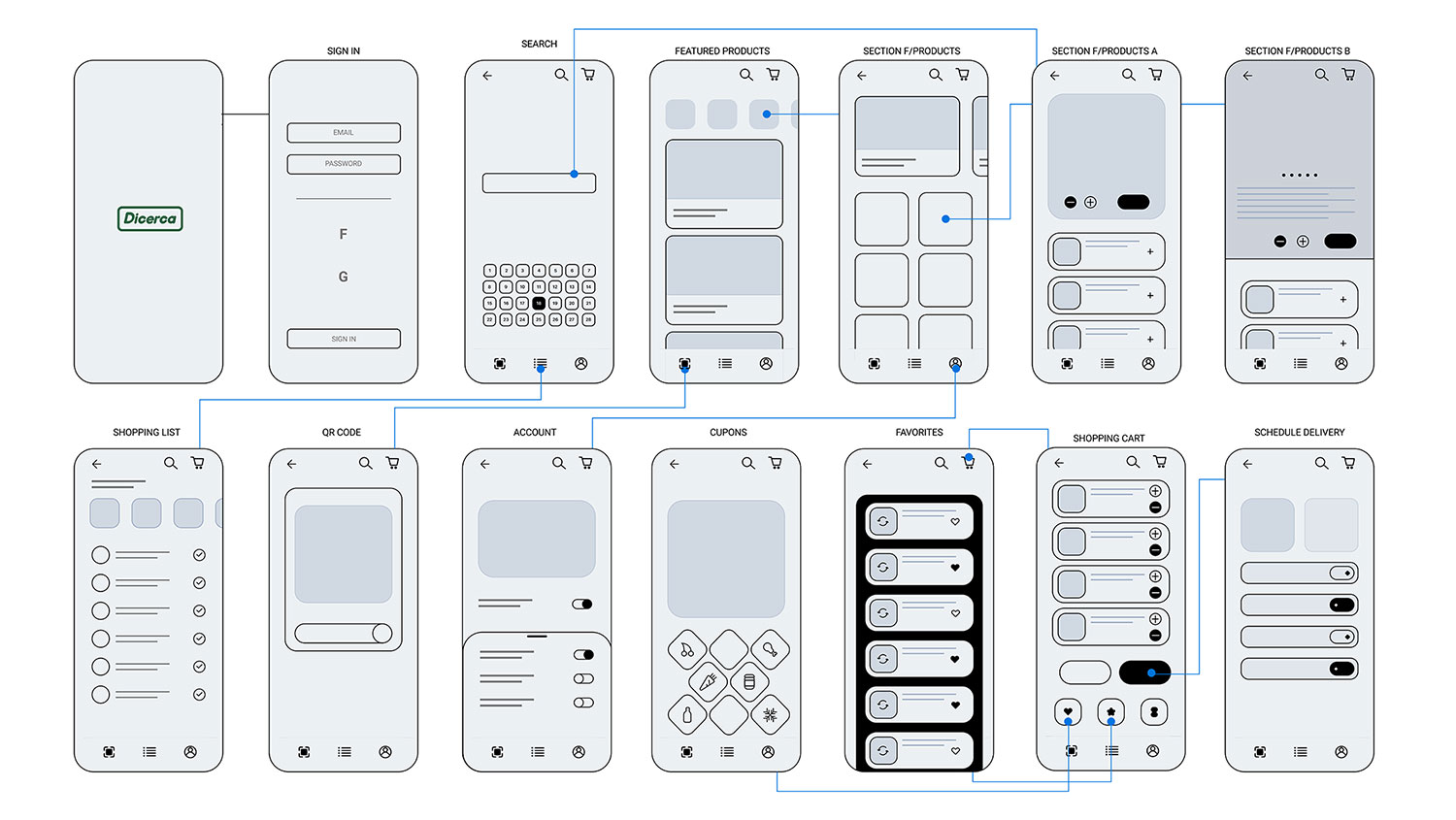 Optimizing for all futures
Online orders through Dicerca App
Point of sale (POS)
Demand forecasting
Inventory planning
Promotions and markdown optimization
Workforce optimization
Space optimization
Dicerca for customers 
Easy onboarding
Easy to use app
Designed for accessabiliity
Smart search
AI driven product suggestions
Flexible delivery
Realtime transit information
Purchasing Funnel
The pre-pandemic and COVID-Era sales funnels will fundamentally follow the same structure, but they will have to account for very different consumer behaviors and tolerances.
Awareness – Showing shoppers what DICERCA is doing to keep them safe or what the competition isn't.
Interest –  Customers are seeking information on competing offerings as well. Reassuring customers that DICERCA has taken necessary precautions to combat the pandemic.
Decision – DICERCA goes the extra mile to secure the conversion. Minimizing friction by streamlining the sales process and removing unnecessary touchpoints
Action – Ensuring a great checkout experience with contactless delivery.